Heavy Duty Land Leveller
6 FEET
7 FEET
8 FEET
FRAME
Draw bar mounting with the help of ms
SIDE SUPPORT
Vertical : 25 x 10 mm ms flat
Horizontal : Crescent shape, MS flat, max. width 100 mm,
min. width 35 mm
THICKNESS OF PLATE
10 mm
BLADE DIM.
70 x 10 mm (High carbon steel)
3 POINT LINKAGE
65 x 16 mm flat
CENTRAL SUPPORT
MS angle 40 x 5 mm
LINKAGE PIN
28 mm
SPAN
1850 mm
2150 mm
2460 mm
WEIGHT (APPROX.)
140 kg.
155 kg.
170 kg.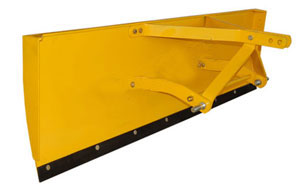 Benefits
It is a simple and rugged Implement which is directly fitted to the tractor.
The 10mm single plate duly reinforced, makes our leveller trouble free in operation.
It is a basic implement for levelling of land.
Features
Levelling blade is made out of special steel which gives it double the life compared to other ordinary blades.
The leveller is available with 6, 7 and 8 ft width.