Medium Duty Rigid Tiller
9 TYNE
11 TYNE
FRAME
65 x 8 mm (Angle) Box Frame
TYNES
75 x 25 mm Flat with Rakab (U Clamp)
SIDE SUPPORT
100 x 12 mm Flat
SHOVELS
En-45, 10 mm
FRAME BOLT
18 x 65 mm
3 POINT LINKAGE
65 x 16 Front; 50 x 16 Rear
HEIGHT
25.5"
LENGTH
79"
97"
WIDTH
30.5"
TOTAL WEIGHT (approx)
242 kg.
295 kg.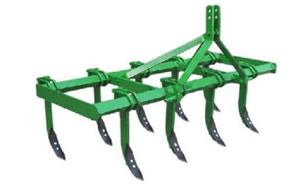 Benefits
Designed to withstand the toughest work and operate as a Light Chisel plough.
Used for loosening and aerating soil to a depth of 9 inches.
Features
Heavy duty shanks for positive penetration.
Breaks up top soil, uproots stubble and leaves the ground perfectly worked.
Particularly useful for paddy cultivation areas requiring shallow ploughing on hard clayey cracked up soil. In such places, it prepares seed bed faster than ploughing.