Tipping Trailer
5 TON
9 TON
OUTER DIMENSIONS
10' x 6' x 1.75'
12' x 6' x 2'
MAIN CHASSIS
150 x 75 mm (CHANNEL)
200 x 75 mm (CHANNEL)
SECOND CHASSIS
100 x 50 mm (CHANNEL)
125 x 65 mm (CHANNEL)
SUPPORT CHANNEL
75 x 40 mm (CHANNEL)
75 x 40 mm (CHANNEL)
FLOOR PLATFORM
4 mm THICKNESS
SIDE WALL
2 mm THICKNESS (CORRUGATED)
SIDE AND REAR DOORS
TWO SIDE DOORS AND ONE REAR DOOR
BOTH DROP DOWN AND REMOVABLE
WHEEL RIM
HEAVY DUTY DOUBLE PLATE
BEARINGS
2 NOS. TAPER ROLLER/DISC
TOE EYE
FORGED STEEL OF 50 mm DIAMETER
TYRES
2 NOS. 7.50 x 16
2 NOS. 9.00 x 16
HYDRAULIC JACK
10 TON CAPACITY
15 TON CAPACITY
AXLE
75 mm SQUARE
90 mm SQUARE
TRACTOR POWER (HP)
50 - 75
75 - 90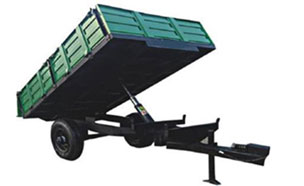 Benefits
Easiness in unloading of goods and materials saves operating cost.
Removable & drop down door gives flexibility of loading & unloading.
Features
Heavy duty structured framework brings in greater strength & stability.
World class hub & bearings harnesses low maintenance cost.
Reliable & heavy duty hydraulic cylinder that works under varying working conditions.
Long Lasting hitch beams manufactured through forging.