Rotary Slasher
6'
7'
GEAR BOX

SINGLE SPEED 540 RPM

SHEET

10 GUAGE

MAIN FRAME

50 x 6 mm (ANGLE)

65 x 6 mm (ANGLE)

WHEEL

1

2

THREE POINT LINKAGE

50 x 16 mm (FLAT)

DEPTH CONTROL

1" - 8"

TYRE DIA.

12"

BLADE

HIGH CARBON STEEL

P.T.O. SHAFT

WITH SHEAR BOLT

LENGTH

1905 mm

2210 mm
WIDTH

1828 mm

2133 mm
CUTTING WIDTH

1750 mm

2060 mm
WEIGHT (APPROX.)

352 kgs.

400 kgs.
TRACTOR POWER (HP)

55

75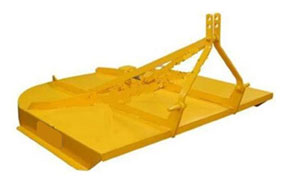 Benefits
Rotary slasher is powerful enough to cope with tall weeds and small bushes, yet giving a satisfactory fine cut on turf areas.
Minimal Scalping.
Provides cost effective grass cutting solution.
Features
Designed for fast application to any type of 50-75 HP Tractor with three point linkage.
Tractor driven; suitable for PTO 540 rpm
Safety chain shield standard.
High carbon steel blades.
Tyres are provided to adjust the height.