Tractor Driven Combine Harvester
Self-Propelled Combine Harvester
Tractor Driven Combine Harvester
CHASSIS
51"
REAR WHEEL
6-50-20
NO.OF STRAW WALKER
5
CUTTING CAPACITY
WHEAT 2-3 ACRE PER HOUR
PADDY 1-2 ACRE PER HOUR
LENGTH
7858 mm
WIDTH
4300 mm
HEIGHT
3910 mm
EFFECTIVE CUTTING WIDTH
3965 mm
WEIGHT (APPROX.)
6840 kgs.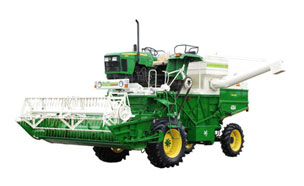 Features
Folding elevator box for easy maintenance.
Sheet channel type light weight reel.
Specially designed cutter bar can harvest fallen crop.
Rear axle beam type for more ground clearance.
Free tool and spare part kit with harvest.
Harvest transmission chin suitable for wet Land.
All rotating parts balanced by computer balanced machine
Self-Propelled Combine Harvester
CHASSIS
51"
REAR WHEEL
8-25-16
NO.OF STRAW WALKER
6
CUTTING CAPACITY
WHEAT 3-4 ACRE PER HOUR
PADDY 2-3 ACRE PER HOUR
LENGTH
8450 mm
WIDTH
4700 mm
HEIGHT
3700 mm
EFFECTIVE CUTTING WIDTH
4300 mm
WEIGHT (APPROX.)
7600 kgs.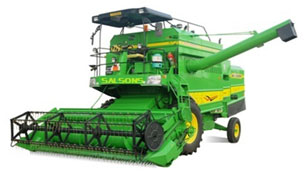 Features
Folding elevator box for easy maintenance.
Sheet channel type light weight reel.
Double paddle hydraulic brake for easy turning.
Specially designed cutter bar can harvest fallen crop.
For safety side cover provided.
Powered by Ashok Leyland.
Cutter gear for better grain separation.
Safe straw walker for better grain separation.
Free tool and spare part kit with harvest.
All rotating parts balanced by computer balanced machine