Tyne Ridger
No. of Furrows
3 FURROW
4 FURROW
LENGTH
Heavy Duty Box Frame 102 x 102 x 7 mm
OVERALL LENGTH
2770mm
3685 mm
MOUNTING
CAT I / II
CAT I / II
MAST HEIGHT
21"
FASTENERS
High Tensile
TYRES
6.00 - 16
WEIGHT
55-60
70-75
TRACTOR POWER (HP)
330 kgs.
400 kgs.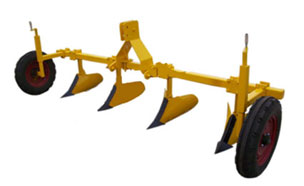 Benefits
Depth of the rider can be adjusted with the side tyres.
It is mostly used for sugarcane plantation.
Features
It has heavy duty box type frame.
It can produce ridge with the maximum width of 900 mm.